Spooner Area (Logging and Lumbering Period: 1868 – 1895)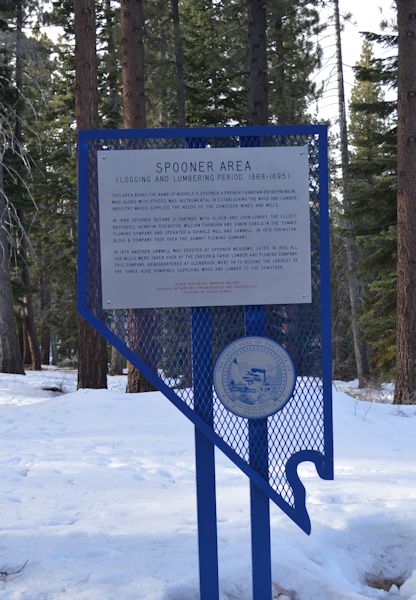 Photo courtesy of Carleen Clark
This area bears the name of Michele E. Spooner, a French Canadian entrepreneur, who, along with others, was instrumental in establishing the wood and lumber industry which supplied the needs of the Comstock mines and mills.
In 1868 Spooner became a partner with Oliver and John Lonkey, the Elliot brothers, Henry M. Yerington, William Fairburn and Simon Dubois in the Summit Fluming Company and operated a shingle mill and sawmill. In 1870 Yerington, Bliss & Company took over the summit fluming company.
In 1873 another sawmill was erected at Spooner Meadows. Later in 1873, all the mills were taken over by the Carson & Tahoe Lumber and Fluming Company. This company, headquartered at Glenbrook, went on to become the largest of the three huge companies supplying wood and lumber to the Comstock.
STATE HISTORICAL MARKER No. 225
STATE HISTORIC PRESERVATION OFFICE
DIVISION OF STATE PARKS