Volunteer Site Monitoring Services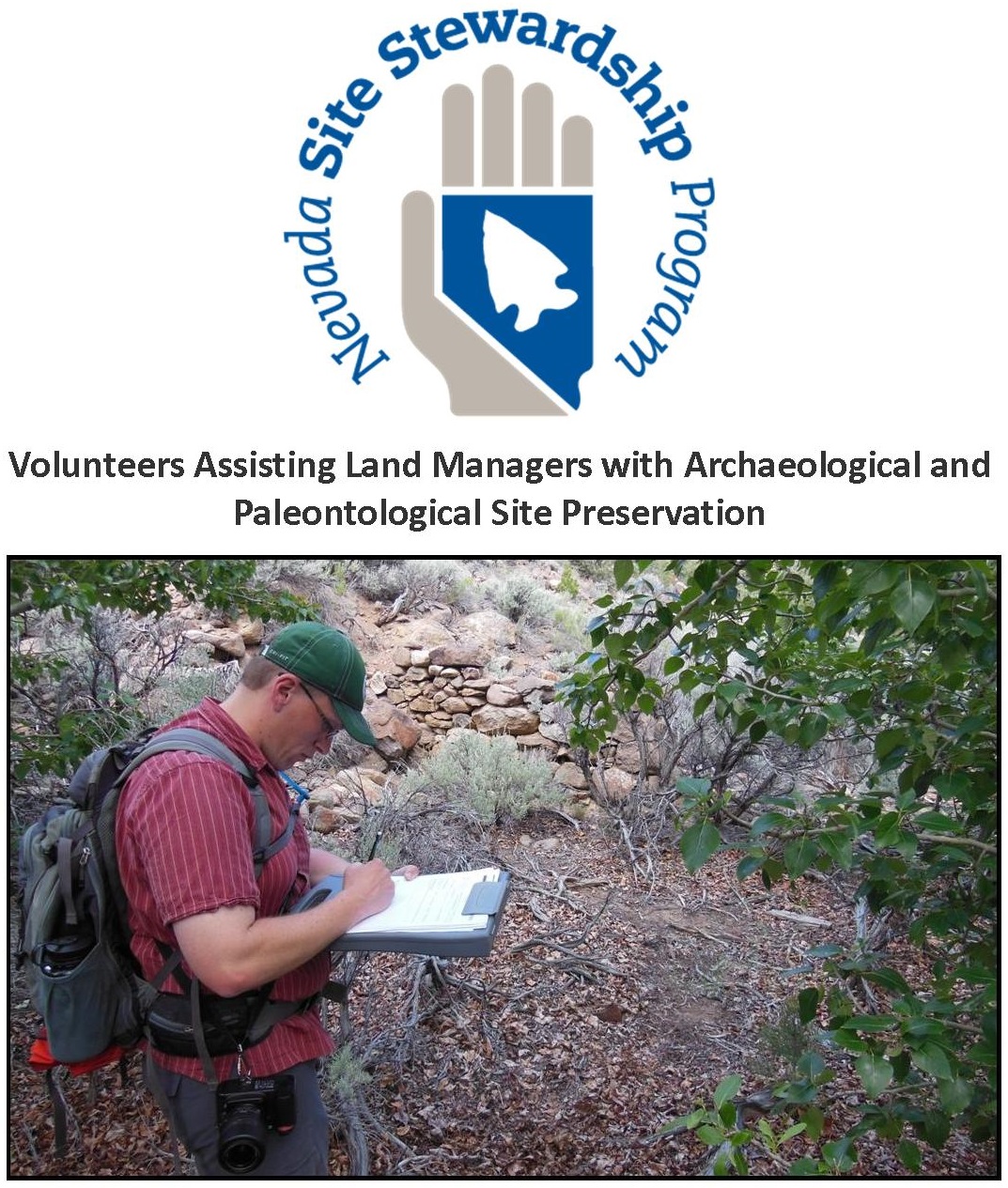 The Nevada Site Stewardship Program (NSSP), managed by the Nevada State Historic Preservation Office (SHPO), is an organization of volunteers sponsored by federal, state, and local government land managing agencies to assist in monitoring at-risk archaeological and paleontological sites for vandalism, theft, excessive visitation and natural deterioration.
The NSSP currently coordinates over 300 stewards monitoring over 320 sites for five federal, 2 state and 2 local governmental agencies. The site stewardship program was designed to assist agency representatives in meeting their National Historic Preservation Act, Section 110 and compliance requirements as well as an opportunity to report volunteer hours.
The Program
There are three components to the program: the agency representative, the NSSP, and the site stewards.
Agency's role
To supervise and/or approve volunteer activities on agency managed lands by:
Providing the NSSP office information on agency polices and safety procedures.
Identifying sites in need of stewardship.
Providing site information to the NSSP Office.
Responding to impacts at sites.
NSSP's role
To manage the stewardship program through:
Training stewards in laws, regulations, safety, and monitoring activities.
Receiving, processing, archiving and forwarding site stewardship reports to the agencies.
Maintain a database and paper record of volunteer information, site information, monitoring activities, and photographs.
On a quarterly, annual, and/or as-needed basis, providing reports on all stewarding activities.
Maintaining the safety and security of confidential cultural resource records.
Ensuring that the program follows federal and state agency safety guidelines.
Ensuring that the program suits the needs of the agency.
Steward's role
Their role is to monitor their assigned archaeological or paleontological sites for natural disturbances, visitor impacts, and evidence of vandalism or looting. Through:
Visiting their assigned site(s) approximately four times a year.
Taking photographs of the site and maintaining a photographic log.
Submitting a Site Monitoring Report for each site visited.
Notifying the designated authorities of any recent impacts to the site.
Site Confidentiality
Site stewards attend a six-hour training which covers state and local preservation laws, including site confidentiality. At the end of the training they are required to sign a code of ethics that states that they understand these laws and will abide by them.
Safety and Emergency Information
Safety is a major concern when it comes to volunteers going out into Nevada's backcountry. The NSSP Basic Training Manual has entire sections dedicated to safety which mirror the Department of Interior Volunteer Safety requirements. Each individual agency office is also asked to provide agency contact information, emergency response policies and any additional safety paperwork they would like the stewards to have.
Benefits of Taking Part in the Program
There are many advantages to taking part in the Nevada Site Stewardship Program.
Some benefits include:
Volunteer training and coordination is provided by the NSSP Office.
Records of stewards, monitoring information and associated photos are archived by the NSSP.
A variety of reports are readily available upon request.
Records of volunteer hours to use towards congressional reporting requirements.
Sites get monitored regularly.
Stewards are happy to help with other projects.
For a more detailed outline of the program and how it can assist your agency, please have a look at the Nevada Site Stewardship Program section of the website and read our agency guide.
---