Bowers Mansion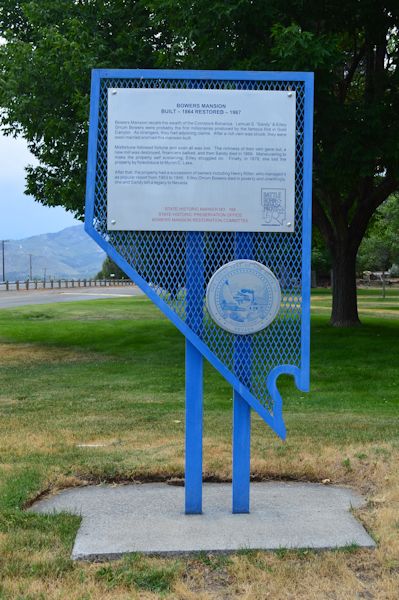 Photo courtesy of Carleen Clark
BUILT— 1864 RESTORED —1967
Bowers Mansion recalls the wealth of the Comstock Bonanza. Lemuel S. "Sandy"& Eilley Orrum Bowers were probably the first millionaires produced by the famous find in Gold Canyon. As strangers, they had adjoining claims. After a rich vein was struck, they were soon married and had this mansion built.
Misfortune followed fortune and soon all was lost. The richness of their vein gave out, a new mill was destroyed, financiers balked, and then Sandy died in 1868. Maneuvering to make the property self sustaining, Eilley struggled on. Finally, in 1878, she lost the property by foreclosure to Myron C. Lake.
After that, the properly had a succession of owners including Henry Ritter, who managed it as popular resort from 1903 to 1946. Eilley Orrum Bowers died in poverty and unwittingly, she and Sandy left a legacy to Nevada.
STATE HISTORIC MARKER NO. 166
STATE HISTORIC PRESERVATION OFFICE
BOWERS MANSION RESTORATION COMMITTEE