Commission for Cultural Centers and Historic Preservation (CCCHP)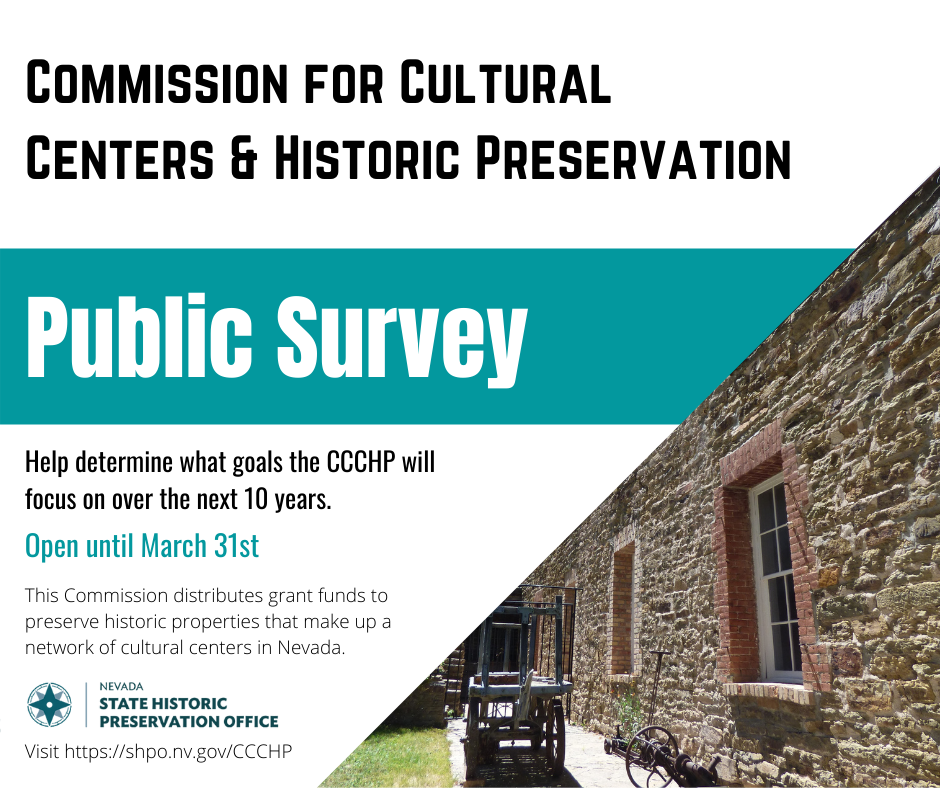 Click on image
Virtually tour some of our grant recipients:
The Commission for Cultural Centers and Historic Preservation (CCCHP) was established by state law (NRS 383) to advise the State on matters pertaining to the preservation and promotion of Nevada's cultural resources. The Commission is composed of representatives of the Nevada Humanities Committee, the Board of Museums and History, the Nevada Arts Council, the State Council on Libraries and Literacy, and the tourism industry.
The Commission awards financial assistance, made possible through the State's bonding program, to governmental entities and nonprofit organizations conducting projects that preserve and protect historic buildings, structures, objects, and archaeological sites used to develop a network of cultural centers and activities. Private property owners are not eligible.
Commission Members
Robert A. Ostrovsky, Chairman
Robert Stoldal, Vice Chairman
Antoinette Cavanaugh
E'sha Hoferer
Patricia Olmstead
Yale Yeandel
David Ortlipp
Upcoming Meeting
None scheduled.
Past Meetings
February 1, 2022 at 1:00pm Agenda, Agenda Item 4: Executive Budget FY2021-2023 CIP, Agenda Item 4: Unfunded Requests from FY19-FY22, Agenda Item 4: Draft Letter to the Board of Finance; Agenda Item 5: Grant Revision Proposal, Saint Paul the Prospector, received at SHPO January 18, 2022.
November 3, 2021 at 3:00pm Agenda; Agenda Item 4a, Agenda Item 5, Agenda Item 6a, Agenda Item 6b, Agenda Item 6c, Agenda Item 6d, Agenda Item 6e, Agenda Item 6f, Agenda Item 6g, Agenda Item 6h, Agenda Item 6i, Agenda Item 6j, Agenda Item 6k, Agenda Item 8
September 13, 2021 Agenda and Minutes
December 14, 2020 11:00am Agenda and Minutes
October 13, 2020 3:00pm Agenda and Minutes,
June 18, 2020, 11:00am Agenda and Minutes,
June 9, 2020, 9:00am Grant Hearing for 2019-2020 grant cycle Agenda and Minutes,
June 3, 2020, 10:00am Grant Hearing for 2019-2020 grant cycle Agenda and Minutes,
September 9, 2019 at 1:00pm Agenda and Minutes,
May 16, 2019 at 5:00pm Agenda and Minutes
May 10, 2019 at 11:00am Agenda and Minutes
July 11, 2018 Agenda and Minutes
April 12, 2018 Agenda and Minutes
December 21, 2017 Agenda and Minutes
July 25, 2017 Agenda and Minutes
August 25, 2016 Agenda and Minutes
April 14, 2016 Agenda and Minutes
July 30, 2015 Agenda and Minutes
February 3, 2015 Agenda and Minutes
January 6, 2015 Agenda and Minutes
March 6, 2014 Agenda and Minutes
July 31, 2013 Agenda and Minutes
March 3, 2013 Agenda and Minutes
---